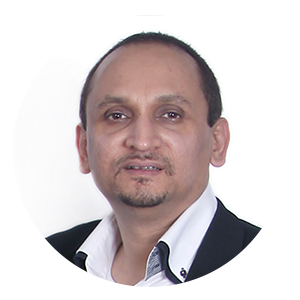 Dr. Muneer Muhamed
CEO Chief Advisor, Rezonent Microchips Pvt Ltd India
Dr Muneer has over 25 years of management experience across industries globally and is a well-known author and management consultant. As the CEO and Managing Director of CustomerLab Solutions, an innovative management consulting firm in partnership with some of the finest thought leaders in the world, he pioneered the implementation and proliferation of balanced scorecards in India and Middle East. He also drives passionately customer experience management, new age strategic thinking and innovation across private and public sectors in the region.
He has spearheaded India Inc's global foray through a partnership with India's leading industry body, the Confederation of Indian Industries. The CII-CustomerLab India Scorecard Initiative has helped companies execute their global strategies meticulously. He is also working with FICCI on a SME Scorecard Initiative to help small and medium businesses in India achieve execution excellence. Under his non-profit company, Medici Institute, he is committed to driving mission-focused governments. He has been advocating the same to the President, Prime Minister, Finance Ministers and others in India to accelerate the country's economic growth, improve the effectiveness and efficiency of its governing bodies, and enhance its global stature.
As a leading columnist since 1991, he has written regularly for the Economic Times, Times of India, Business World, Business Line, Khaleej Times, The Independent, Business Standard, Financial Express, Business & Industry of Saudi, Financial Chronicle and many more. Over 400 columns have been published in print media alone. He has several books to his credit and is currently working on two books related to strategy execution and marketing ROI.
Muneer is known for his strategic and creative solutions to seemingly complex problems. He serves several boards and organizations in an advisory role. This includes the National Games and Institute for Competitiveness. He delivers keynote speeches across the world and occasionally lectures students on BSC, innovation and service quality. Most recently he is a strategic partner at Mach49, a Silicon Valley-based company helping large companies disrupt inside out (www.mach49.com). He has worked with clients like Mass Mutual Massachusetts), Aditya Birla Group, TVS, Dubal, Wipro, Murugappa, LMW, Reliance Group, Cognizant and many others. He is a BTech (Electronics), PGDBM (marketing and finance) and PhD (strategy management). He has won several awards including the World HR Congress' Strategic Leadership Award and the Margadarshi Award for Innovation.